You may not know much about Revealing Reality, but we are the people who: 
Ensure isolated people – from young people with learning disabilities through to middle-aged men at risk of suicide – are properly supported and connected within their local communities

 

Are helping shape the UK's approach to migration and asylum through research with service users across the world

 

Inform the government's strategy on protecting children online by exploring teens' experiences of watching porn or sending nudes

 

Have pushed the gambling industry to deliver far higher quality safer gambling interventions to protect their customers

 

Are transforming the spectator experience of international football tournaments, from the World Cup to the Euros

 

Are pressing for people in residential care homes to be able to stay connected using internet-enabled technologies 

 
These represent only a few of the 40+ projects we are working on at any given time. We influence policymakers, designers and strategists. Our work is diverse, spanning health, media and technology, environmental policy, financial capability and beyond. We work for national and local government, regulators, charities, NGOs and the private sector. 
When social problems seem intractable and the worlds of academia, industry, policy experts and the big-name consultancies are out of ideas, we are the people asked to help. 
All our projects start with research because without a solid understanding of how the world works, there is little hope of making it better.  But research does little on its own – so we expect our teams to be able to problem solve using design, innovation and consultancy skills.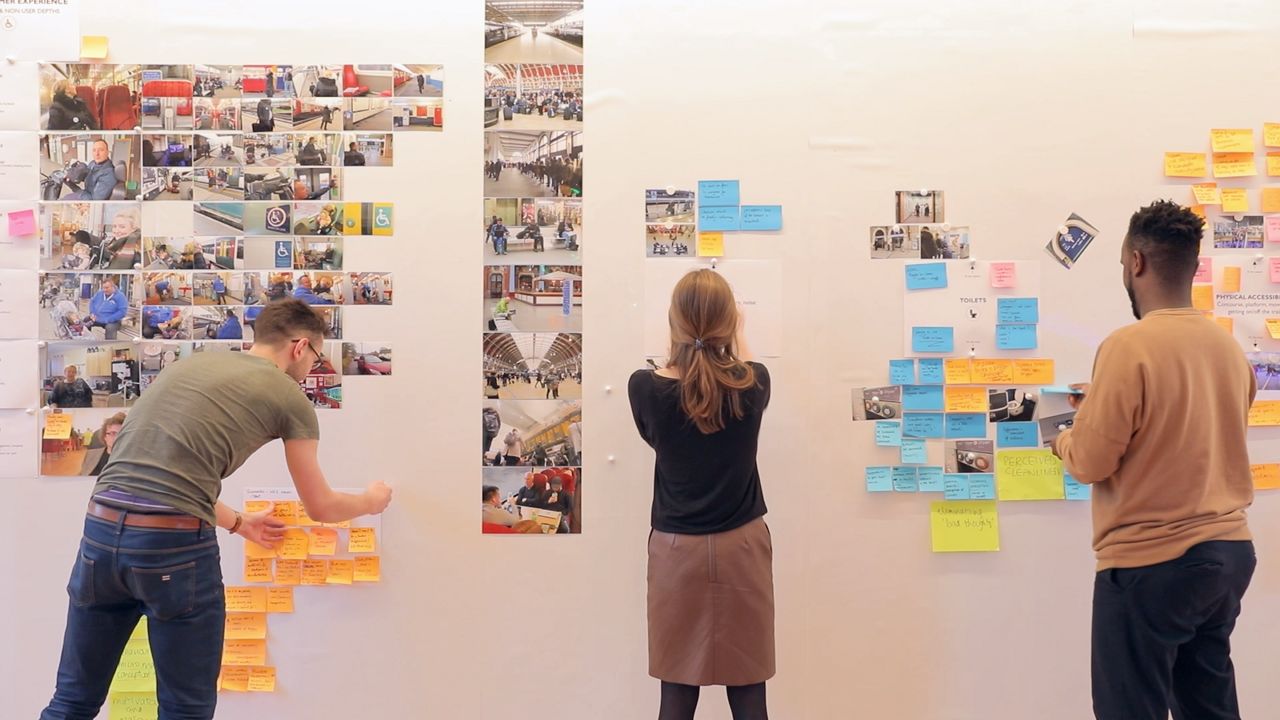 We know much of this will be new to you but if you genuinely want to learn – about everything – how things work, what you've misunderstood, how to drive change, coupled with the qualities of patience, determination, humility and the knowledge that you can achieve far more working in a high functioning team than you will ever achieve on your own, then this is just about the perfect job for you.  
We operate 4 graduate researcher intakes per year and invest heavily in graduates joining as junior researchers or operations team members, supporting and guiding throughout whilst you get paid to learn, do good, work with similarly ambitious, positive people and have fun doing it.   
Interested? Want to hear more? We know it can be hard to see the path ahead when you're starting out, so we asked some of the people who you would be working with – from junior researchers who have only been here a few months, to seniors with over five years under their belts – to tell you a little about what they think of their role here. See below and click the link on the left of this page to find more
Researcher, 6 months at Revealing Reality
Because I studied anthropology, I was directly interested in research and ethnography. I've always liked talking to people and finding out about their lives. You learn so much from each person you speak to, and getting to do this in people's homes, in their own environments is what I wanted to do when I was thinking about careers while in uni. I also liked the idea of not being stuck at a desk 24/7 working monotonously, and that I would get to go out explore, learn, and then discuss it all with others at work.
Now, 6 months into my role I can confirm that the job is as interesting and exciting as it was presented as! The range of projects and clients make it easy to maintain momentum and continue to think critically, and it means that the work never gets tedious. It's impossible to work here and not feel enthusiastic about what you are doing, and the change you are bringing to the world.
Not only this, but this is also the most supportive environment I have ever worked in. All your colleagues really want you to be your best, encourage you to try new things and step outside of your comfort zone, and trust you with responsibility. Although this can be daunting at first, it has been crucial to developing my confidence in this role. I cannot believe how much I have grown and learnt over the last 6 months; I have become more organised, more confident, more creative, more critical. I don't think I would have had that opportunity working at a bigger company where I wasn't able to regularly check in with directors, senior staff and other colleagues.
It struck me in the interview process that there are standards at RR as a research agency, that work was turned away if it wasn't helpful to society. It was different to interviews at other research agencies and it really stood out to me. As a grad, I also liked how much the interview was about me as a person, rather than a checklist exercise, as it shows that the company values character and attitude a little more than what you have achieved on paper.
Since working here, one thing that has been striking to me is that everyone genuinely loves their job. Everyone is so invested in the company and cares so much about what we do and is so proud of it all – it's a really nice atmosphere to work in.
Researcher, 1.5 years at Revealing Reality
Everyone who wants to work here knows there are things that need to change in the world and has some ideas about how to get started. However, one of the main things you'll learn at Revealing Reality is that there are challenges and ways to make change happen that you would never have thought of before. I think before I started here, I felt pretty certain about what I thought was right / wrong and important / less so – but pretty quickly realised the world is far more diverse and interesting than I'd ever imagined.
One of the best things about working here is that you're part of a team who are incredibly invested in everything they do – from delivering impactful projects, to building relationships with clients and their teams, to sharing learnings with your colleagues – it's just enjoyable to be around people that care and want to do their best in things.
In a similar vein, it is really nice to work somewhere that feels like they care about you. You'll learn about new and different topics quickly, be put into situations with responsibility early on, and develop new skills constantly. So long as you're interested and show willing, you'll get a lot in return for working here.
Senior Researcher, 4 years at Revealing Reality
As a researcher at Revealing Reality I've had the opportunity to spend time with a diverse range of people, understanding what life is like for them. From talking to young people about their use of pornography, to those living multiple health conditions about the challenges they face, to spending time with police officers understanding their use of different tactics to tackle knife crime.
I've not stopped learning about new topics and parts of life, and continue to have my assumptions challenged!
The research has taken me across the UK and beyond – doing research in people's homes, schools, hospitals, workplaces, sporting events (from local 5 aside football matches to the Russia World Cup!), music festivals, casinos and many more.
As well as the chance to meet interesting people and explore new places, I've been supported to take on increasing responsibility within the business. As a graduate, I assumed it would be years before I was in a role where I was managing and developing other people, alongside developing my own skills. But with ongoing guidance and close support from the senior team over the past four years, my day-to-day job now involves leading teams and focusing on improving the skills of others.
Similarly, I've been able to take responsibility for building relationships with clients, innovating in how we design and carry out research, creating high quality and impactful outputs, and winning new work. Across the business there are always opportunities to get involved and push yourself to grow if you want to.
Each project we do is an opportunity to positively change something in the world. Whether it's influencing policy, inspiring the design of a new product or service, or helping clients to create positive behaviour change.
Research Editor, 4.5 years
When I applied for an operations role at Revealing Reality I had very little idea of what I wanted to do. As an English grad I at least knew I wanted to utilise my writing skills, but I was also determined find a job where the work was genuinely interesting, had a positive impact on the world and provided opportunities for learning and growth – qualities I was really struggling to find in any of the organisations I was applying for at the time!
From the get-go it was clear I'd found those qualities here. Starting off in an operations role I was able to quickly pursue my interests and explore new-found talents. I was encouraged to take responsibility for the comms outputs of the business, get involved in bid writing for new work – which involves tackling a huge range of complex research problems, such as how to measure online wellbeing through to how to engage non-English speaking migrants – and eventually oversee quality of written outputs for projects.
During my time here I've helped to produce and launch reports to inspire country-wide change, spoken to people from all walks of life – from asylum seekers to aphasia sufferers – and, most importantly, learnt about issues, individuals and organisations that you wouldn't get the opportunity to learn about in any other sector or workplace.
Associate Director, 7 years at Revealing Reality
I was originally attracted to working at Revealing Reality because I wanted to be pushed out of my comfort zone. The prospect of exploring the world for your job – in care homes, hospitals, schools, towns and cities and the homes of ordinary (and extraordinary!) people across the UK – was a daunting and exciting idea.
Several years on, I can confidently say I have been pushed way beyond what I thought I was capable of at that age! I now sit at the centre of a business that punches way above its weight in terms of social change and impact, that leads thinking and insight on issues you can't help but feel passionate about, and constantly strives to be better.
Beyond research, I have been able to develop skills that span leadership, strategy, storytelling, design and consultancy – none of which I would have seen myself being good at (or even knew what they were) when I joined Revealing Reality. I've learned that you can achieve a lot more in the world by investing in a team and the people around you. You don't have to be good at everything yourself if you can learn how to trust and inspire others.
Working here will probably leave you changing your mind about almost everything you thought you already knew. It is all a lot more complicated than it's made out to be, and making change happen is harder than most can imagine. Constantly challenging what you think, learning about the world and figuring out what to do about it is not easy, but it is a lot of fun.